Polyvinyl Chloride (PVC) based pipes and fittings are widely used in the plumbing industry for several applications. Different types of PVC pipes are used for different purposes, from potable water transfer in household and commercial setups to the transfer of wastewater. Let's learn the difference between PVC and SWR pipes.
PVC pipes
PVC pipes define a wide range of thermoplastic pipes that are available in different shapes and sizes. Polyvinyl Chloride is available in many variants such as: 
uPVC: Unplasticized PVC is a variant that contains no added plasticizers and hence is more rigid than other variants of PVC pipes. The sole purpose of the plasticization of PVC is to make it more flexible. uPVC pipes are safe for carrying potable water and have high resistance against corrosion.
CPVC: Chlorinated PVC is a variant that is manufactured by adding a bit of additional chlorine to the parent material. These pipes share similar characteristics as uPVC. However, they are more flexible and due to chlorination, they can withstand a variety of temperatures. 
PVC-O: Molecular-oriented PVC is a variant that is manufactured by turning the amorphous structure of uPVC into a layered structure. These pipes are more resistant to corrosion and have a higher pressure withstand ability as compared to uPVC and CPVC pipes. Additionally, these pipes are 100% recyclable.
Modified PVC: These pipes belong to the category of thermoplastic alloys. There are different sub-variants of modified PVC such PVC-Hi, PVC-M, and PVC-A. All of these variants are produced by adding an extra bit of element to bring out certain unique characteristics in the pipes. 
SWR Pipes
SWR or soil, waste, and rainwater pipes are a category of drainage pipes that are used for residential and industrial developments. The sole purpose of these pipes is to transport the wastewater or buildup from one place to another. These pipes are made of PVC material and come in self-fit and ring-fit variants. Here are the features and benefits of SWR pipes and fittings: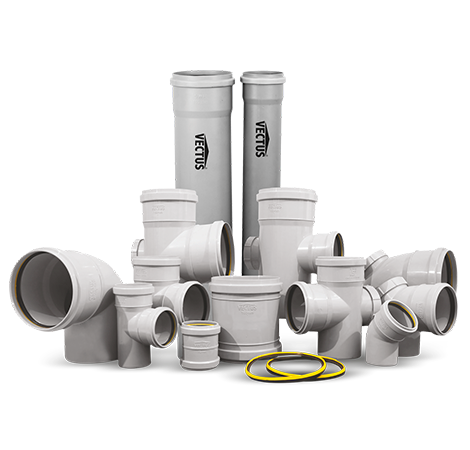 Features and Benefits of PVC SWR Pipes
High flow: These pipes have a high flow rate, thanks to their smooth inner texture.
Leak-proof: These pipes are completely leakage free and work at great efficiency.
Low maintenance: These pipes require next to no maintenance. Once installed, they work efficiently for decades.  
Longevity: PVC-based SWR pipes are known for their high durability and longevity.
Corrosion-resistant: Much like every other variant of PVC pipes, SWR pipes are corrosion-resistant.
Lightweight: These pipes are extremely lightweight as compared to metal or cement drainage pipes.
Affordable: Due to their lightweight and various shapes and sizes, it is quite economical to install these pipes. There is no added cost for heavy machinery required.
Ease of installation: Depending on the variant of the pipes, they can require a solvent or can simply be joined by pushing the spigot into a socket end. Being light in weight makes these pipes easy to carry and install.
UV-resistant: PVC-based SWR range of pipes is resistant to harmful UV rays and can be used for external applications.