An underground drainage system is installed to collect the excess wastewater and transfer it using underground pipes to an open-water disposal source. Different materials are used to manufacture an underground drainage pipe depending on the application and the area of installation. Let's look at the different types of pipes used for underground drainage:
Metal Drainage Pipes
Metal pipes are generally made of cast iron. These pipes are used for high-strength drainage applications such as deep water drainage, under-road drainage, and deep ground drainage where soil pressure is high due to the constant movement of layers.
Concrete Drainage Pipes
Concrete-based drainage pipes are popular for their adaptability. They are available in various sizes and can be customised for different applications. These pipes have a dual coating inside and outside that adds more chemical resistance and enhances longevity.
Asbestos Cement Pipes
Asbestos-based drainage pipes are widely used for the transfer of wastewater in areas prone to heavy rainfall and floods. These pipes have adequate durability while being lighter in weight as compared to metal pipes. Additionally, these pipes are also used for sanitary sewer applications.
Plastic Drainage Pipes
Plastic-based underground drainage pipes are rapidly becoming the first choice for various types of underground drainage applications because of their affordability, longevity, ease of installation, and high efficiency.
Plastic drainage pipes are made of uPVC (Unplasticized Polyvinyl Chloride). This thermoplastic material is known for its high strength, lightweight, chemical resistance, corrosion resistance, and heavy water flow.
What makes uPVC underground drainage pipes a preferred choice for drainage applications over metal and cement pipes?
Benefits of uPVC underground drainage pipes
As we mentioned above, uPVC pipes have several features such as lightweight, chemical resistance, ease of installation, etc that give them an edge over other types of underground pipes. Let's learn about the benefits of using these pipes in detail:
Affordable: The uPVC underground drainage pipes are a very economical purchase. Additionally, they are an economical solution when it comes to installation as they require less manpower and no heavy machinery.
Easy to install: Since these pipes are lightweight, they can be easily carried and transported without requiring heavy machinery. Moreover, these pipes can be easily joined as per requirements.
Lightweight: uPVC underground drainge pipes are significantly lighter in weight as compared to metal and cement-based pipes.
Highly durable: Don't let the lightweight property of these pipes fool you, uPVC pipes are extremely durable and can withstand high pressure.
Available in different sizes: These pipes are available in different sizes making them ideal for several different applications.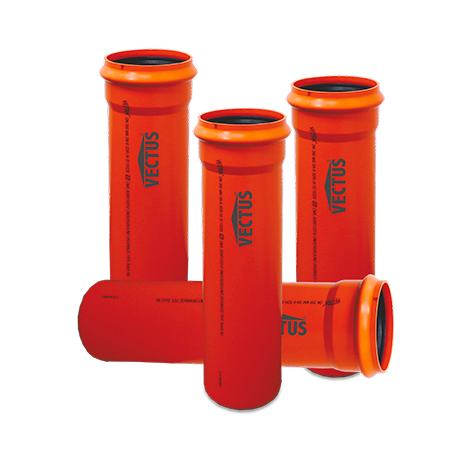 Leak-proof joint: uPVC Underground Drainge  pipes have leak-free joints, thanks to their special solvent
High water flow: The smooth inner texture of these pipes offers a high flow of wastewater, therefore, avoiding clogging. 
Low maintenance: These pipes do not require high maintenance which makes them a highly affordable option in the long run. 
Chemically inert: These pipes are chemically inert and thus can be used for the transfer of toxic industrial effluent as well. 
Corrosion-resistant: Unlike metal pipes, uPVC-based pipes are corrosion-resistant and last for ages.
Versatile: uPVC underground pipes can be used for a number of drainage applications in commercial, residential, agricultural, and industrial drainage systems.