PVC-based thermoplastic pipes and fittings are widely used in the plumbing industry worldwide. These pipes are further categorized into several categories based on the different variants of PVC material used in the manufacturing process.
The two of the most commonly used PVC variants are uPVC and CPVC. In this article, we will discuss what are these variants, what are the differences, what are their unique characteristics, and which of these two options is better. 
Let's dive deep right in!
UPVC Pipe
Unplasticised Polyvinyl Chloride is a variant of PVC that does not contain any added plasticisers in it. Therefore, this material is more sturdy than other variants of PVC. This variant is less flexible than other variants of PVC. 
The lack of plasticisers is the cause of some unique characteristics such as: 
Strong
Despite being extremely lightweight like all other PVC variants, uPVC pipes are very strong, thanks to their sturdy build. These pipes can withstand high pressure and thus make a great fit for applications that require high-pressure piping systems. 
Resistant to harmful UV-rays
UV rays can cause major structural damage to the pipes. However, uPVC pipes are immune to harmful UV-rays.
Chemically inert
uPVC pipes do not react to any chemicals and thus they are a suitable option to carry hazardous industry effluent. They are also used in water treatment plants.
Corrosion-resistant
uPVC pipes are corrosion-resistant and do not rust for decades.
Lead-free
Since these pipes are unplasticised, they are lead-free and labeled as "green-use" pipes. This property makes uPVC pipes suitable for the transfer of potable water.
Highly durable
Lastly, UPVC pipes are highly durable, thanks to their stiff and rigid structure. This is the reason why these pipes are used for windows and doors as well.
CPVC Pipe
Chlorinated Polyvinyl chloride is manufactured by chlorination of the Polyvinyl Chloride polymer. Chlorination is the process of adding chlorine to any element to treat any impurities, for example, the chlorination of water makes it germs-free. CPVC pipes are more flexible than UPVC or PVC pipes. CPVC pipes have a unique ability to transfer hot and cold water.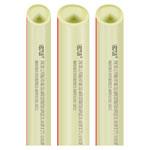 Here are some of the characteristics of a CPVC pipe:
Corrosion-resistant
Just like a UPVC pipe, CPVC pipes prevent damage against harmful UV rays and are suitable for outdoor usage as well.
Lower bacterial growth
Due to the chlorination of the PVC material, CPVC pipes have a lower growth rate of bacteria as compared to metal, cement, and other thermoplastic based pipes.
Self extinguishing
These pipes are self-extinguishing, it's the reason why they're sometimes used for water sprinklers.
Flexible and strong
CPVC pipes are really strong just like any other variant of the PVC pipe family. However, these pipes are surprisingly much more flexible than the other variants.
Temperature resistant
CPVC pipes are resistant to temperature changes that makes them a suitable option for the supply for both hot and cold water.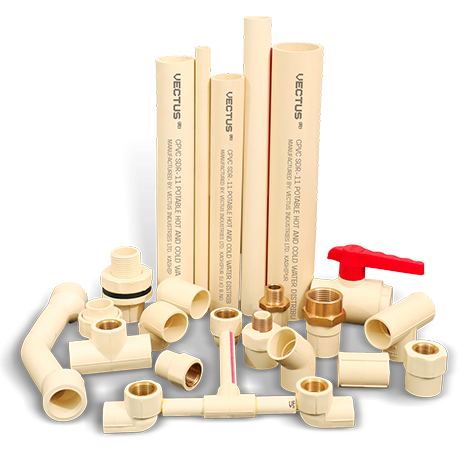 Which pipe is better: UPVC or CPVC?
While both of these options are widely used for their several notable advantages. There is no clear winner between the two. The difference in material and unique characteristics of these pipes make them suitable for different applications.
For example, CPVC pipes are the best when it comes to the supply of hot water and usage in a water sprinkler system. On the other hand, uPVC pipes are the best when it comes to transfer of industry effluent or making the frame for doors and windows.