Changes in shower & tap water pressure can happen over a period of time. This can make homely chores take forever to finish. Low water pressure is a common problem in many Indian households. It can take unusually long hours to simply fill a bucket or cause dribbling water from a shower which can be frustrating at times. 
This is a common plumbing error, but thankfully can be fixed without much expenditure and in little time. Before going ahead with the corrective measures, it is important to ensure that your house has lower water pressure. For example, if you are watering your garden and filling buckets at the same time, this may cause water pressure to get distributed, hence lowering the water pressure. Such cases are situational and temporary, which doesn't necessarily mean that your house might have a lower water pressure.
Also, do discuss it with your neighbours to understand if it is a mass problem. Water clogging could also be one of the reasons causing low water pressure. This problem could be solved easily with proper cleaning at home. But if the low water pressure persists even after cleaning, then let an experienced professional take a look.
What to use to boost water pressure?
PVC pipes are an excellent choice to increase free water flow and maximize water pressure. In many households, GI pipes are installed that can get rusted with time and break. They can also cause illnesses like cholera and diarrhoea because of their rusted surface. You can choose to replace GI pipes with Vectus UPVC pipes (Unplasticised Polyvinyl Chloride) or CPVC-based pipes (Chlorinated Polyvinyl Chloride) that are thermoplastic, corrosion-free, and possess high durability. These are also 100% recyclable and hence do not act as an environmental stressor. Let's understand both categories in detail. Read below to know.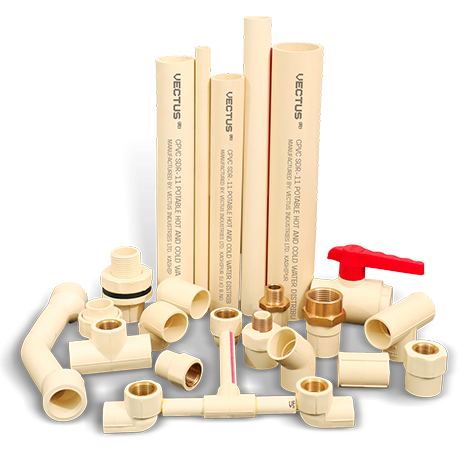 CPVC-Based Pipes
CPVC pipes are thermoplastic in nature that are ideal for water distribution, transportation of reactive fluids in industries, etc. It has high-impact resistance and high tensile strength. In composition, the chlorine content is slightly higher than UPVC pipes and can withstand high temperatures.
Optimum Flow Rate
CPVC-based pipes consist of a smooth inner surface which reduces friction and initiates the smooth flowing of water from the beginning. It also uses smaller pumps and less energy to move large quantity water.
Ease of Installation
CPVC-based pipes weigh roughly 1/8th the weight of a metal pipe. This property serves easy and faster installation by reducing labour time. It also does not require much maintenance from time to time as it does not get affected by aggressive soil and air. 
Long Service Life
It is an excellent outdoor product and can withstand the harshest weather conditions. It can help by reducing cost, and energy, and function more efficiently.
Multi-sector Usage
CPVC pipes are resistant to scaling, bacteria build-up, and pH level of water, which is why these pipes are great for hospitality, retail, health care, education & more.
Temperature Resistant
CPVC pipes can withstand temperature changes easily. Be it cold or hot, these pipes are suitable for any water supply.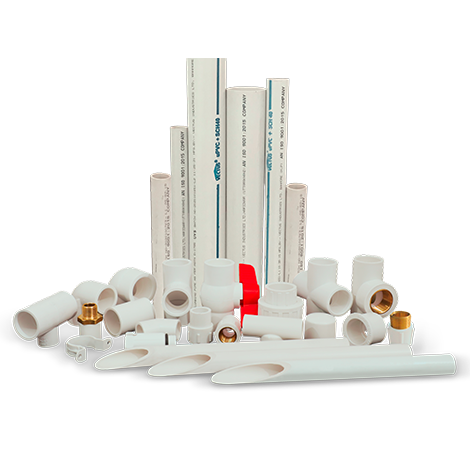 UPVC Pipes
It is a variant of PVC pipes and does not contain any plasticizers. These are an ideal choice for homes & corporate places since they make every space liveable with their convenient plumbing. 
Strength & Durability
These pipes have high tensility & strength which make them a durable product for all plumbing needs. Even though they are very light-weighted, they still possess firmness & a sturdy build. They also have an excellent bending property and can handle heavy impact during construction.
Non-toxic
It is a non-reactive and stable product. It is known to be easily recyclable as it is lead-free and labelled under green use. They are also a safe choice for the transportation of drinking water, soil & even waste.
Maximum flow
These pipes have a smooth surface, which does not produce friction and gives way to an easy flow of water. This in turn increases the water pressure easily and does not cause any disruption for a long time.
Leak-resistant
These pipes come in various lengths & sizes, and hence do not require multiple joints causing unnecessary leakage. There is also no metal work required in fittings and is directly cemented which yet again decreases the chance of exposure to rusting.
Quick Tips for a Good Water Pressure
Considerable pipe diameter
The more the diameter, the better the water flow. Bigger water pipes ensure strong yet easy water flow without increasing the water pumping rate.
Use Vectus Joints
You use 45-degree elbow bend to increase the water flow. When compared to a 90-degree elbow bend, there is much lesser friction which serves in great water flow.
Install a pressure booster
You can install a water pressure booster pump if all methods do not work out for your water system. These are compact but powerful in functionality, that turbo charges the incoming flow. 
Keep the delivery line horizontal
The delivery line should be horizontal and parallel to the ground to avoid air trap formation that affects the water delivery and slow down the pressure.
Conclusion
Loss of water pressure can really be frustrating at times. No matter how minimal the problem sounds, it costs a great deal of efficient functionality. It is better to identify the problem rightly with the help of a plumber and troubleshoot low water pressure at home or any industrial space. There could also be times when the faucet or shower could be clogged because of mineral build-up. This is why it is important to get the water trouble checked not just in one particular space but throughout the space.
Vectus has had a presence in India for 3 decades. It is known for its reliable product range, possessing superior & cutting-edge technology. It has become the leading PVC pipe supplier in the country as it can sustain under any environmental conditions while adhering to standard quality norms. Its well-diversified portfolio of piping systems makes it ideal for industrial, agricultural, and household needs. Whether you have a problematic water flow system or insignificant water storage, Vectus pipes, fittings, tanks, etc., can troubleshoot all your problems easily.