Plastic pipes have taken over the industry that was once ruled by metal and concrete pipes. However, with over a dozen different variants of plastic pipes, it is difficult to choose the best suitable option for any plumbing requirement.
With that in mind, we are talking about HDPE (High-Density Poly-Ethylene) pipes. These pipes fit the jack of all trades category so well. Whether it's agriculture, commercial, industrial, or household, you are likely to find HDPE fittings.
What makes HDPE pipes so unique? Why are they so widely preferred over other variants? Why are HDPE piping systems so highly talked about? In this article, we will answer all these questions and much more. Let's begin with learning what HDPE is.
What are HDPE Pipes?
High-Density Polyethylene pipes are a variant of thermoplastic pipes. The unique manufacturing of these pipes makes them highly flexible and durable. These pipes are known for their versatility as they are used for residential, commercial, industrial, and agricultural applications.
Other than that, these pipes have unique properties that set them apart from the likes of PVC and CPVC pipes. Ask any leading HDPE pipe manufacturer about the go-to piping solution, and they will point you to HDPE thermoplastic pipes.
Let's explore the unique properties of HDPE pipes that collectively make them so special and dependable.
What makes these pipes unique?
While some of these features are similar to other plastic pipe variants, the HDPE piping system is special as it brings all these features together.
Corrosion-resistant
These pipes do not rust or get corrosion making them an excellent choice for the transfer of water, chemicals, gas, sewage, and for geothermal plants. The corrosion resistance property gives these pipes an edge over metal pipes.
Chemically inert and resistant
Another reason why these pipes are widely preferred over metal pipes is that they are chemically inert meaning that they do not bring out any chemical activity no matter the material that comes into contact.
Highly flexible
One of the best unique features of an HDPE pipe is its sheer flexibility. This makes it easier to use the pipe in various industries. The high flexibility is due to material quality and the fact that these pipes are fused with homogenous welding.
Low maintenance
Being corrosion resistant, chemically inert, and homogeneously fused, these pipes are leak-proof, long-lasting and immune to bacteria and fungi. Therefore, HDPE piping systems are cost-effective in the long run.
Lightweight yet strong
These pipes are lighter in weight but stronger as compared to steel, concrete, and other plastic pipes making them an ideal choice for heavy load-bearing applications. This is one of the key features that's helping leading HDPE pipe manufacturers make a fortune
Easy to install
Since these pipes are lightweight and do not require a solvent for joints, they make it easier to install a fantastic HDPE piping system in no time.
Cost-effective
Being lightweight saves a lot of cost on labour and heavy weight-lifting machines. This is another reason why big industries are turning their eyes to HDPE piping systems.
Highly durable & crush resistant
Metal, concrete and low-quality plastic pipes can not stand water hammering for long. However, HDPE piping systems are highly durable and crush-resistant and can withstand high pressure.
Heavy flow rate
The smoother internal and external surfaces of these pipes allow the gas and liquid to flow with little to zero friction. Even solid particles can flow through these pipes without much turbulence.
Recyclable
Unlike most other plastic pipes, an HDPE pipe is recyclable and can easily be moulded into different shapes. Additionally, these pipes are environmental-friendly and do not emit toxic gases while manufacturing.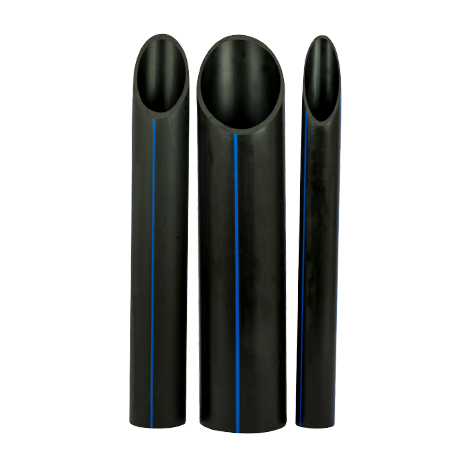 Why are HDPE Piping Systems so widely used?
Given all the characteristics that we have mentioned above, it is no surprise that HDPE piping systems are dominating in the piping industry. Let's learn why these pipes are so widely used in different sectors.
Agricultural Usage
HDPE piping systems are easily a go-to choice for irrigation and other agricultural uses because they are corrosion resistant, chemically inert, prevent the growth of germs, support heavy water flow, and can withstand heavy water pressure, thanks to the flexible walls.
Industrial Usage
When it comes to industrial uses, HDPE piping systems carry out various functions, such as high-pressure pipelines, and the transfer of chemicals, gases, and wastewater.
Household Usage
HDPE piping systems are a good choice for the transfer of potable water in residential and commercial spaces as these pipes prevent the growth of bacteria and other germs, keeping the water safe and pure.
Other Usages
High-Density Polyethylene pipes are also suitable for telephone cable protection and oil transmission.
As a leading HDPE pipe manufacturer, Vectus uses only the best quality raw materials to manufacture HDPE pipe in the following standards:
PE 63 – 20 mm to 110 mm.
PE 80 – 20 mm to 110 mm.
PE 100 – 32 mm to 110 mm.
We hope this article helped you to learn more about High-Density Poly-Ethylene pipes. Please click the link below to know more about the HDPE piping system: https://www.vectus.in/pipes-fittings/infrastructure-supply/hdpe