Choosing a new water storage tank for your home can be really complicated. Tank manufacturers have started to overload it with features, some even useless. Amidst all this, we have been introducing groundbreaking innovations in the Plumbing industry for decades. Today we won't be getting into specificities of features. Instead, we'll discuss the two popular manufacturing processes through which tanks are made.
Blow Moulding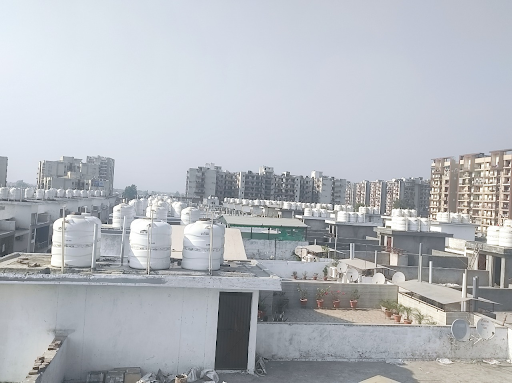 Blow Moulding process is a specific manufacturing process for water tanks by which hollow plastics are formed. Infact, it is a highly versatile process as it enables limitless design possibilities and inherent design strengths in water tanks. Blow Moulding also helps in maintaining a consistent wall thickness and super strong, virtually stress free outside corners. Moreover, in a blow-moulding setting, ribs form an integral part for additional strength.
Process
As we said, Blow moulding is helpful for creating hollow plastics. This process begins with melting down of the plastic and its formation into a parison. A parison is a tube like piece of plastic with a hole in one end which lets the compressed air to pass through. Post this, the parison is clamped into a mould and air is then blown into it. The plastic is then pushed by the air pressure to match the mould. Once the plastic gets hardened and cooled down, the mould opens up and the part is ejected.
The process of blow moulding manufacturing is fully automatic, keeps the temperature low and consumes electricity which is safe for labor. It also helps in keeping the environment clean. Moreover, it offers significantly lower cycle times and maintenance.
Roto Moulding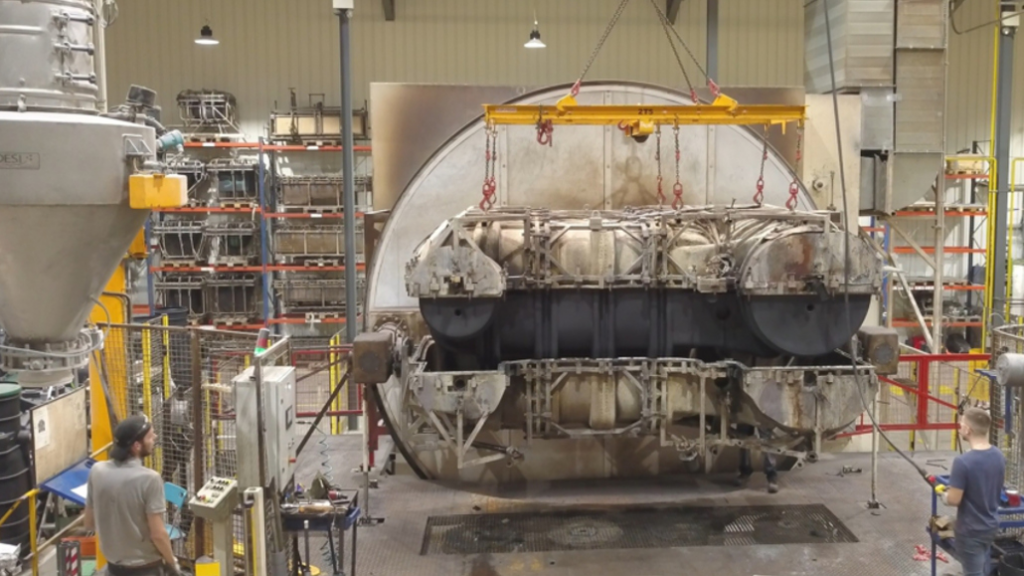 Roto Moulding is a method for moulders that produces intricate and complex plastic products. In rotomoulding of a tank, the production involves a heated hollow filled with a charge or shot weight of material. Furthermore, it is slowly rotated usually around the 2 perpendicular heat axes and lets the softened material to disperse and stick to the walls of the mould. For maintaining the thickness throughout the part, the mould continues its rotation at all times during the heating phase to avoid sagging or deformation also during the cooling phase.
A roto moulding setting involves skilled manual work. For instance, in the process of rotomolding, special workers are needed to open and close the moulds. Opening and closing the die belongs to heavy manual labor.
Rotomoulding has longer cycle times and high energy consumption. Economically, the capital expenditure required for Rotomoulding machines is lower than Blow moulding machines. Tooling is also relatively cheaper and simpler. Rotomoulding is economically feasible for both low-volume and high-volume production runs and produces negligible waste.
Do you know?
Vectus was the first brand to introduce blow moulded tanks. Not only that, it is even the largest manufacturer of blow moulded tanks in the world.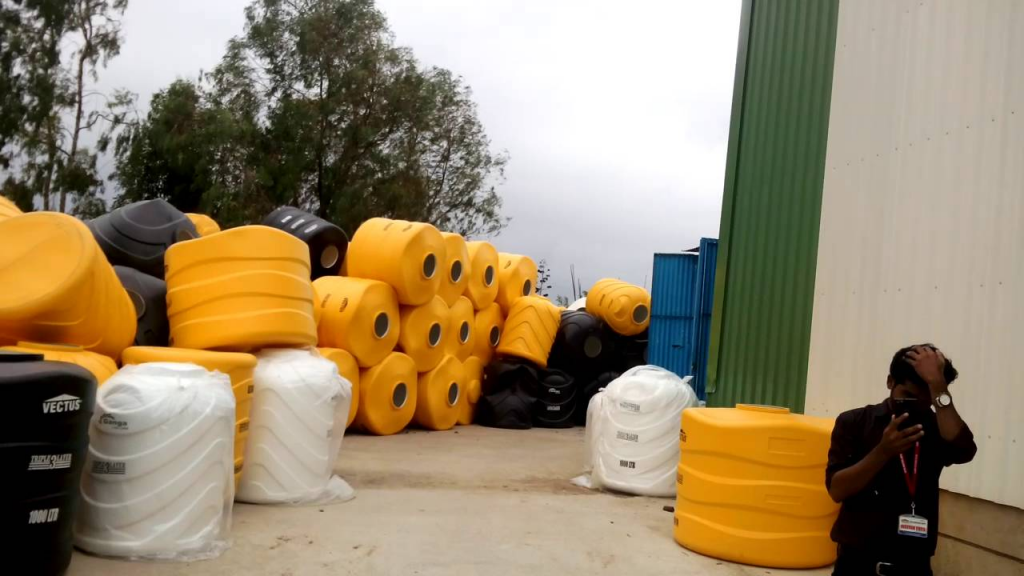 Vectus offers a range of both Blow Moulded and Roto Moulded tanks safe for use at home.
Here are a few Blow moulded tanks that you consider buying for your home.
Vectus Silk : Vectus Silk is a blow-moulded tank made of 3 layers namely, White Titanium layer, Fine Carbon Distribution layer and an Odour Free Plastic layer.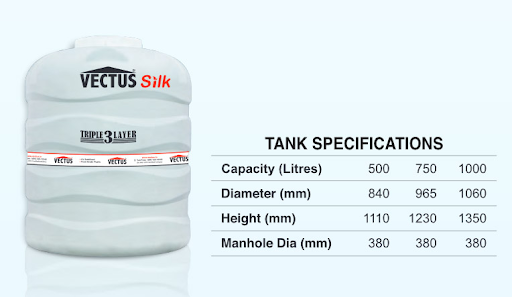 Vectus Next: Vectus Next is an antibacterial range of Blow moulded water tanks suitable for all kinds of applications including domestic, commercial and industrial. It consists of multiple layers like inner Bacterial layer which is resistant to all kinds of bacteria, fungi, and yeasts and in turn, increases life of the tank. It also boasts an Environment Stress, UV Sun Shield, Titanium and a colored layer with Heat Reflective Technology.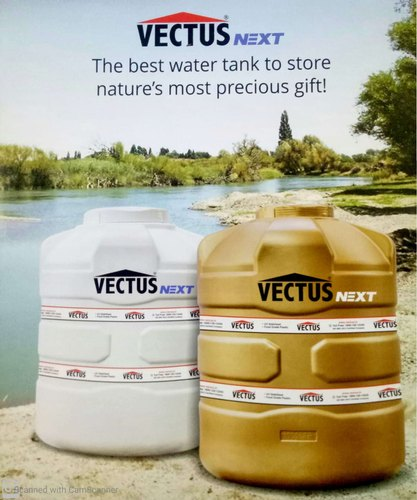 Vectus European Standard water tanks: Vectus European Standard range of water tanks is manufactured with Roto-moulding process and is equipped with certifications from the global leader in anti-microbial technology "Microban" and also offers safety from heavy metals with RoHS (Restriction of Hazardous Substance). These are some of the Vectus European Standard water storage tanks that you can buy.
Vectus Cool
Vectus Cool is European Standard water storage tank certified with a Microban Antibacterial layer and RoHS. These tanks are designed to keep your water pure, safe and cool. To know more, visit https://www.vectus.in/vectus-cool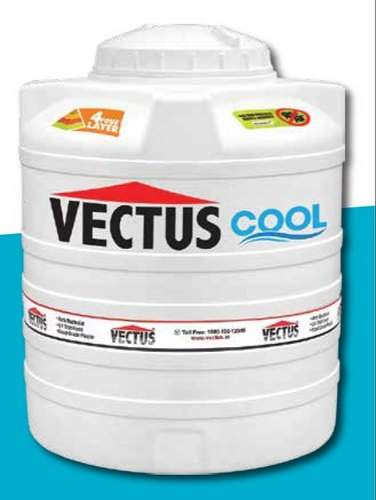 Vectus Safe
Vectus Safe is designed keeping in mind the good health of your family. This tank is free from hazardous heavy metals to keep water safe for human consumption and consists of 3 layers- UV Sun shield, Antibacterial and Titanium layer. To know more, visit https://www.vectus.in/vectus-safe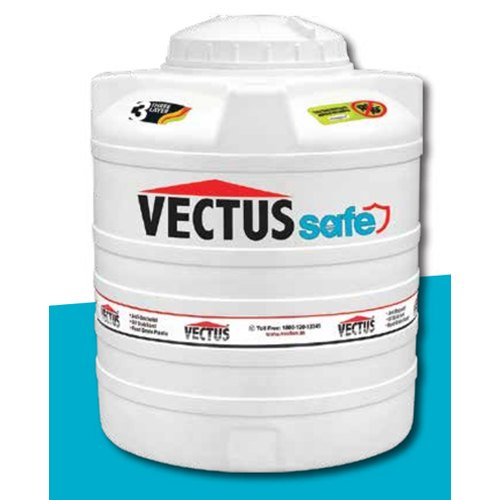 Vectus Granito
Vectus Granito comes in an attractive design with a granite finish on top. This tank, ideal for household purposes, sports 4 layers of protection. To know more about Vectus Granito, visit https://www.vectus.in/vectus-granito