Presenting our range of Anti-Bacterial and Heavy Metal-free tanks certified as per the European Standards! This makes the water safe for drinking.
The overhead tanks are used to store a large amount of water, and their name originates from the usual position where these tanks are installed--these are normally stored at the heads of buildings.
The Vectus Cool range of Anti-Bacterial 4-layer plastic water tanks has been designed to keep your water pure, safe, and cool. These tanks consist of 4 layers, where each layer is designed to fulfill a specific purpose. These 4 layers in Vectus Cool plastic water tanks make it an ideal choice for household and industrial applications.
These plastic water tanks have an inner Microban Layer that stops 99% of the growth of microbes like bacteria, fungus, algae, etc. in the stored water. Limiting the bacteria stops the degradation of water, odour, and the staining of the inner layer of the tank. Limiting the bacterial growth also protects the tanks from the damage that bacteria do to the plastic.
Then comes the intermittent Foam layer which provides insulation and keeps water-resistant from external temperature variation even under extreme conditions--be it summer or winter. Then, the black colour UV sun shield layer protects the plastic water tank from the adverse effects of UV rays.The outer high-quality Titanium Loaded layer provides strength and whiteness to the tank.
The water tank also comes with an RoHS (Restriction of Hazardous Substances) certification. It originated in the European Union and restricts the use of heavy metals to certify that the tank is safe. Heavy metals are often found in tanks which can be unsafe for humans. The RoHS standard makes Vectus, one of the best plastic water tanks that you can trust. The tank range safeguards your family's health from heavy and hazardous metals that can harm you. In fact, this is essential to note when buying water tanks for your home as tanks without RoHS can be toxic in nature. The toxicity may further lead to severe diseases and can even lead to organ damages. Oftentimes, it is also seen that tanks without RoHS are not resilient which means quality is compromised. Thus, it is better to ensure safety and Vectus water tanks do this job well.
The Vectus Cool plastic water tank is available in the 550, 750, 1100, 1500, 2000, 3000, 5000, and 10,000 liters capacities
| | | | |
| --- | --- | --- | --- |
| Capacity (Litres) | Overall Diameter (mm) | Overall Height (mm) | Diameter Of Manhole (mm) |
| 550 | 870 | 970 | 390 |
| 750 | 990 | 1035 | 390 |
| 1100 | 1110 | 1190 | 390 |
| 1500 | 1230 | 1345 | 390 |
| 2000 | 1335 | 1490 | 390 |
| 3000 | 1550 | 1750 | 450 |
| 5000 | 1880 | 2010 | 450 |
| 10000 | 2300 | 2610 | 480 |
Note:- There could be variations in specification due to continuous product development, All sizes and capacities are approximate. All sizes are in mm
The Inner Anti- Bacterial layer infused with Microban Anti -bacterial technology, which eliminates bacteria by 99.9%.
Intermittent Foam layer which keeps water-resistant from external temperature variation even under extreme conditions.
Intermittent black colour UV sun shield layer which protects water tank from harmful UV rays.
Outer high-quality Titanium Loaded layer which gives strength and whiteness to the tank.
Free from hazardous heavy metals as per the European standards which make water safe for drinking purposes.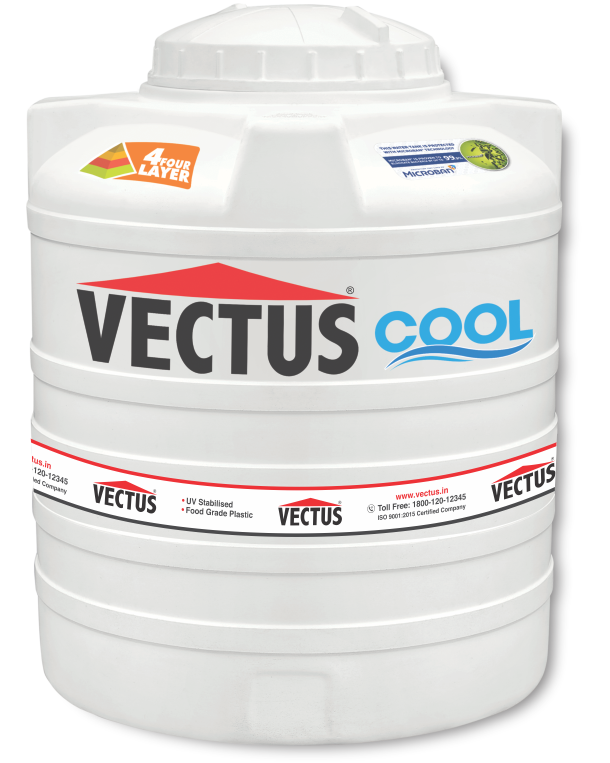 Vectus Cool White