It is common to find cement bases or foundations built for overhead water storage tanks. This traditional approach was used for decades to provide a base to increase the efficiency of the tanks. However, hours of manual labor are exhausted in building a cement base, its lack of uniformity and inevitable cracks make it a cumbersome option.
Vectus has come up with a smart and innovative solution to make lives easier. T-Base is a Water Tank Base for various overhead water storage tanks. It is a modern, portable, sturdy and economically efficient choice. Let us explore the pros in detail.
Why move away from Cement bases?
Traditionally made water tank cement bases take up a lot of time and effort with respect to manual labor and capital resources. Often the structure is not uniform and is uneven, which could be a result of human errors, or environmental conditions like winds, rain, or even monkeys causing mayhem during the period the base is left to dry. These cement bases are permanent structures, so if you opt to rebuild or move, you need to start all over again i.e get a cement base made from scratch which can get hectic and time-consuming. Cement bases can cause damage to the roof due to moisture, growth of algae, and other factors as there is no option to clean the base of the tanks. The most important point to note is that the T-Base is round with a uniform surface that increases the life of the tank. These reasons make it easier to believe why T-base is the efficient and effective choice for the base of your water tanks.
Traditional Cement Base VS Vectus T-Base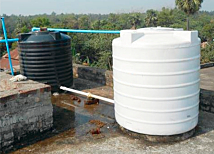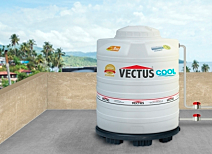 How is T-Base better than Cement base?
| | |
| --- | --- |
| T-Base | Cement Base |
| T-Base is portable, as it can be easily installed and moved anywhere you want. | Cement base is stuck in one place due to its concrete built. |
| T-base makes it easy to clean under the tank and prevents the growth of algae or dust webs. | It is difficult to clean under the tank due to built of Cement bases. |
| Manufactured to be perdurable and lightweight, the T-Base comes with a heavy load-bearing capacity. | Over time, cement bases endure cracks and algae growth which harms the base. |
| T-Base has a uniform surface, and requires no maintenance. | Cement bases are often uneven surfaces and require maintenance often. |
| Cement bases are heavy and costly. | T-base is light in weight and economical. |

Vectus T-Base comes in two sizes; TB-50 is suitable for up to 550 L tanks, and TB-100 which is suitable for 550-1100 L tanks.
It is often difficult to move away from the conventional way of things we are used to, but innovation makes our lives easier. Vectus promises innovation, quality, and customer satisfaction to fight away all doubts. Make your home modern, and choose T-Base which is the ultimate partner for your water storage tanks.