The Indian hardware market is brimmed with garden pipes. And, why not? It is perhaps one of the most essential equipment for your home. It makes a lot of tasks really handy like gardening, car washing, organic farming, filling coolers, construction work etc but in order to do that, you need to make the right choice. Hence, we're here to help you. The hose that is apt for your house depends on many factors. Let's dive deep and find out an ideal garden pipe for your house.
Things to consider-
Pipe length : Garden pipes are generally available in various sizes ranging from 25-100 foot lengths. Therefore, it is important to measure the distance from the actual water source to where you will need the pipe. Moreover, measurement of pipe diameter is also relatively important as various tasks require a particular diameter of pipe to perform that task in the best manner.
Material : A lot of times, you might just get confused because most of the garden pipes look similar. You can even get some of them at really cheaper prices. But, we suggest, don't go for the price tag or any freebies if they offer. You might end up paying less now but on the contrary, you'll end up buying 3 pipes in a year.
Flexibility and Strength: Garden pipes have to be really flexible and super strong. The pipe that kinks less, would always be more durable and long lasting. It is always recommended to get a burst pressure checked because it lets you know the exact water pressure that the pipe can actually withstand.
Health: Cheap garden pipes usually consist of hazardous chemicals which can be cancerous or can lead to other health issues as well. It is advisable to buy a pipe that is safe from such chemicals.
Now that you've a good understanding of what factors to consider while buying a garden pipe, we have an interesting suggestion for you too. "Vectus Garden Pipe"
Vectus Garden Pipes : Made for Green India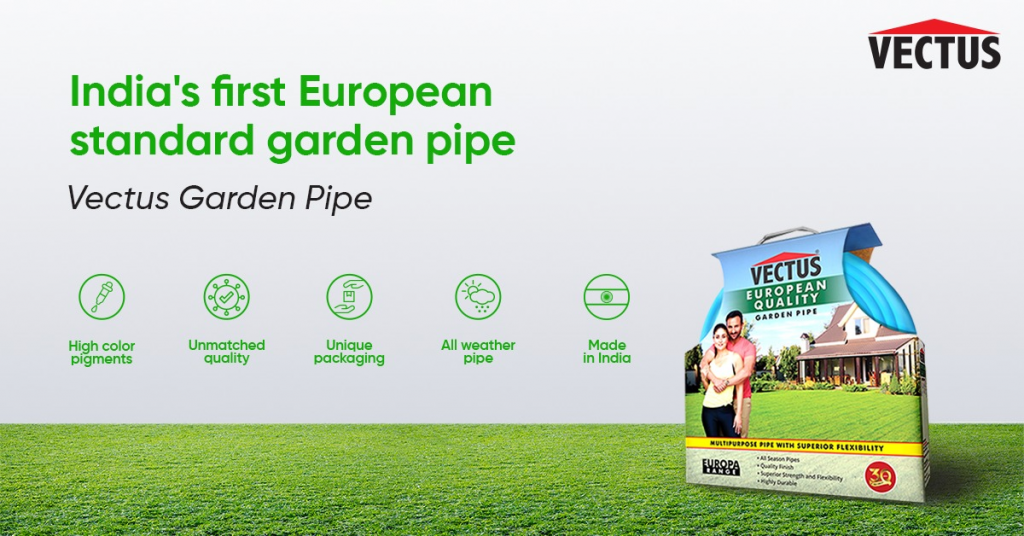 Vectus Garden pipes are undoubtedly the best bet you could opt for in the market. To start with, It is India's first European Standard Garden pipe. This All-weather garden pipe can withstand even the most extreme weather conditions without melting or getting stiff. Generally, cheap quality pipes tend to become weak or melt with changing weathers. Vectus Garden pipes are made of superior technology and world-class raw materials, these pipes won't damage, twist, tangle or crack if kept unused or even in daily use. Cheap garden pipes also have a tendency to fade when it comes in direct contact with a scorching sun whereas, Vectus Garden pipes are made of high color pigments which prevents them from fading so that your pipe keeps that newness intact for years.
In terms of safety and health, Vectus Garden pipes are non-carcinogenic and are made of food grade material which ensure that the pipe doesn't contain any harmful chemicals that can cause cancer in humans. Being an RoHS compliant pipe, this pipe is also free from any heavy metals. In addition to this, the pipe is translucent which discourages the growth of algae or fungus and makes it safer for use. All in all, Vectus Garden pipe is a value for money product with an amazing shelf life for all your daily household chores or Industrial and construction works.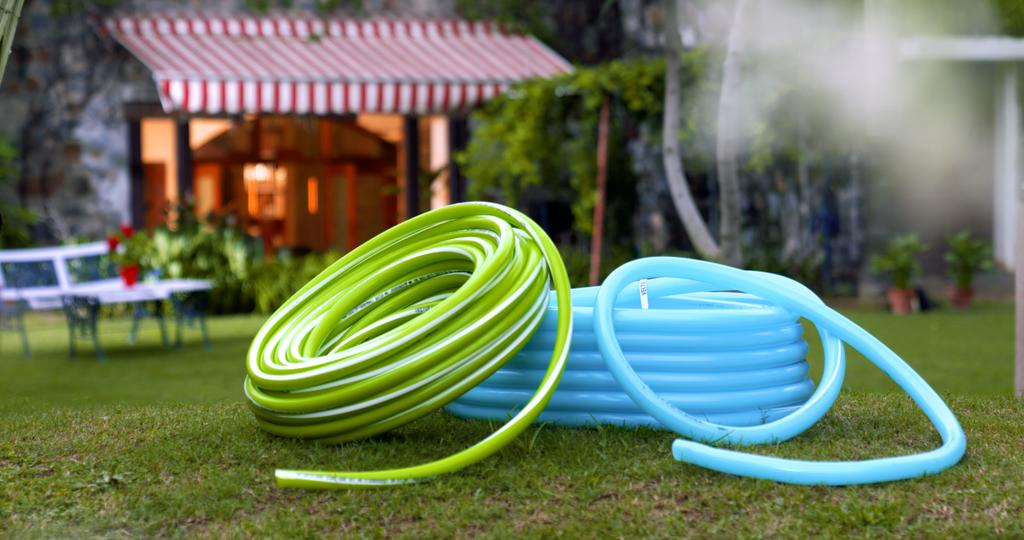 So, we've summed up all the best factors to consider and which pipe might actually work wonders for your house. It's time for you to choose the best and make a versatile use of this eco-friendly Vectus garden pipe, a pipe made in India, and made for Green India.