Gone are the days when you could spot a metal water storage tank on your neighbour's rooftop. Nowadays, plastic tanks are the go-to choice for most household, commercial, and industrial purposes.
However, there are so many varieties of plastic water tanks that it is difficult at times to choose the best suitable option for your requirements. In this article, we are talking about types of water storage tanks based on size, different layers, different applications, and different areas of installation.
Consider it as the ultimate guide for you to choose your next water tank. What's more? We will include some questions that you must ask your water tank supplier before making a purchase.
Let's go!
The must-have qualities in a home water tank
In this bit, we are talking about water storage tanks for household purposes. Therefore, it might or might not apply to all the other water storage applications. We are ideally focusing on what a home water tank should contain for an efficient and pure supply of potable drinking water.
Firstly, if you're purchasing a tank for storage of potable water, it should be UV-resistant, anti-bacterial, and preferably weather-immune. However, if you require a tank for the storage of water to carry out normal house chores such as cleaning, washing, and bathroom uses, you may choose a basic water tank.
Now, how to know whether a water tank is basic or a high-end one designed specifically to last for decades and offer hygienic water storage? Listed below are a few questions that you can ask to figure out which water tank is suitable for what purpose.
Questions to ask your water tank supplier
Here's what to ask and know before making a purchase to make sure that you're bringing home a suitable water storage tank.
Q1) How many layers does this tank have?
Water storage tanks vary from single-layer to six-layered tanks. A single-layer tank does not offer any protection against sun, bad weather, external stressors, bacterial formation, bad odour and much more. Let's talk briefly about different layers of tanks and what they add to the water tank.
Single-layered water tanks
With only one layer of plastic, these tanks are the cheapest available option in the market. However, they do not last long as they suffer structural damage due to corrosion, UV rays, leaky interiors, bad weather, and external stressors. These tanks are not suitable for the storage of potable water.
Double-layered water tanks
These tanks have two layers of plastic, one of which (the inner layer) offers UV stabilisation. If you wish to store potable water in these tanks, you should clean them very often. These tanks do not last as long as three, four, or more layered water tanks.
Triple-layered water tanks
Three-layered tanks have an additional third layer that adds more durability and structural strength to them. Additionally, they have a UV sunshield layer and an anti-bacterial layer to prevent the growth of bacteria and the harmful effects of UV rays.
Four-layered water tanks
In addition to a UV sunshield layer, an anti-bacterial layer, and a titanium outer layer; a 4-layer water tank has an additional weather-resistant layer. This layer helps to maintain the temperature of water against external environmental temperature.
High-end water tanks
Any tank that offers more than 4 layers of protection undoubtedly makes it to the list of the best water tanks. However, these tanks are expensive. The added 5th or 6th layer provides more strength to the tank and adds a touch of beauty to its exterior in addition to all the qualities that a 4-layer water tank offers.
Q2) Is the size of the tank suitable for my requirements?
Water tanks, especially, overhead water tanks are available in different sizes. Ideally, if you're a family of three, you can go for a 500 ltr water tank. For a family of four, a 1000 ltr tank is more than enough. For a bigger group of people, the range of water tanks can vary from 1500 to 2000 litres.
Q3) Where should this tank be installed?
If you get a regular water supply and need a water tank for emergency situations, you may go for a loft tank instead of an overhead tank. Here are a few different types of water tanks based on their areas of installation.
Overhead water tank
These are the most common types of water tanks available in the market. Thanks to their high positioning, these tanks deliver the water with a heavy flow rate.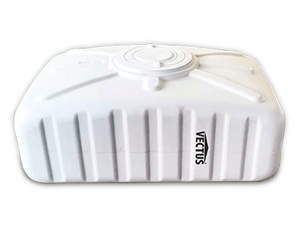 Loft water tanks
If you get a continuous supply of water and only require to store a little amount of water, a loft tank seems like the perfect fit. These tanks are installed on the loft, and therefore, maintain the aesthetics of the house.
Underground water tanks
These tanks are installed beneath the ground and are widely used for rainwater harvesting applications. Underground water tanks are useful for irrigation purposes as well.
Does this tank have threaded lids?
It is important that your tank has a threaded lid otherwise monkeys can easily open the lid of your tank and make a mess inside the stored water. Not just that, traditional tank lids are easily removed when the wind blows heavily and then the dust settles into the bottom of the tank which pollutes the stored water and clogs the output channel.
Vectus is the leading manufacturer of premium water tanks in India designed for a hygienic supply of potable water and to maintain the aesthetics of your home. Check the complete portfolio of Vectus water tanks here:
https://www.vectus.in/water-storage-tanks
We hope this article helped you in understanding how to choose the correct type of water storage tank for household purposes. Thank you.