The right bathroom accessories can add to the charm of a bathroom. Knowing how to choose the right bathroom accessories may not really be an arduous task, but it is one that requires a certain level of skill and expertise to meet the lifestyle preferences of the user. There are three main considerations you need to look at when choosing the right bathroom fixtures and hardware; resilience, design, and cost.
What Are the Materials of the Bathroom Accessories?
Bathroom accessories are usually made of pure copper, stainless steel, aluminum alloy, glass, and plastic. Plastic bathroom accessories are very lightweight, durable and last for years. These products are corrosion-proof, leak-proof, drip-proof, and are resistant to chemical and salt deposits. These products are preferred by most of the bathroom fittings suppliers of India.
Some facts that homeowners and bathroom decorators should keep in mind while choosing bathroom accessories:
Budget
Budget is inarguably the most important determining factor. Most highly-priced accessories are made from high-quality copper or steel. On the other hand, lower-priced accessories like plastic bathroom accessories are cost-effective along with offering one or two key benefits that might be more important for the user than others.
The layout of the bathroom
Modern bathrooms are usually designed following a particular theme. While modern concepts emphasize color and seamlessness, traditional concepts, and conservatism, oriental themes are usually designed for therapeutic effects and are most suitable for steam bath, massages and even transcendental meditation. Plastic bathroom sets should be in accordance with the layout of your bathroom. 
Some users may be fine with plastic bathroom sets that are simple and straightforward. Others may prefer those which are highly sophisticated and exotic. While choosing functionality, it is important that the preferences of the user be kept in mind beforehand as bathrooms are meant to stay put for an appreciably long time.
Frequency of Use
Considerations for personal bathrooms may not be the same as for those in public places, such as hotels or public restrooms. The most important thing to remember is that personal bathrooms should focus on aesthetics and functionality while public bathrooms should be built with durability and user-friendliness in mind.
What are the different types of bathroom fixtures?
Toilets
The most common toilet is the closed-coupled toilet; it is a single unit that stands on the floor, with the cistern sitting atop the bowl. If you are looking for space-saving measures, you should consider a fully back-to-wall close coupled toilet, which is where the back of the toilet fully backs the wall. Wall-hung toilets have a tank built-in to the wall behind the toilet, and the bowl is attached to the wall. Wall-hung toilets give a contemporary feel to bathrooms and are much easier to clean compared with closed-coupled toilets.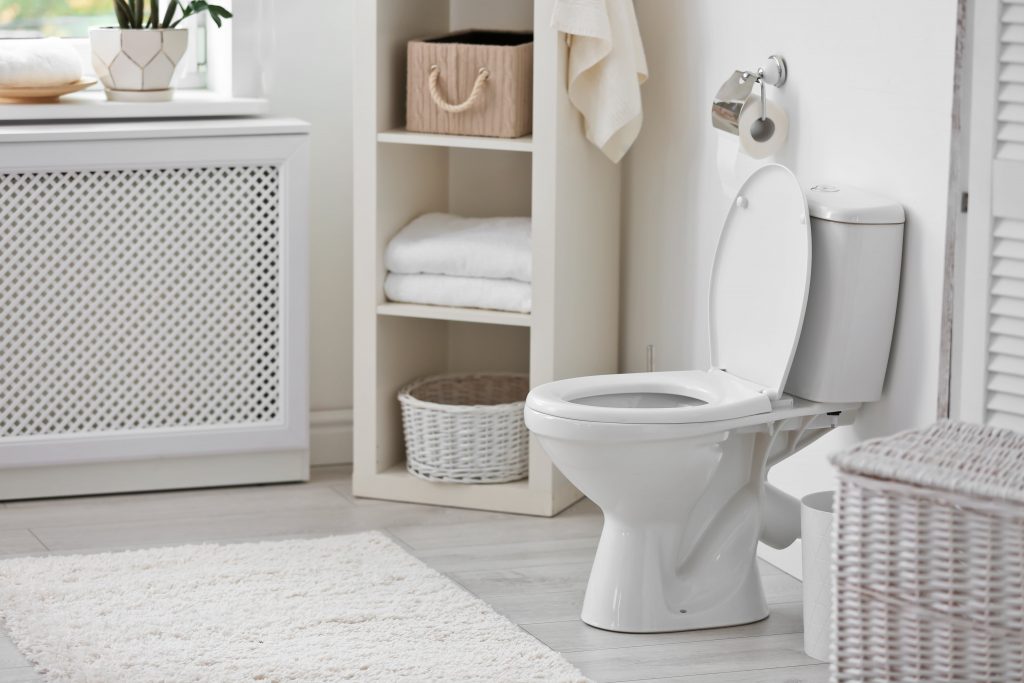 Toilet Seats
Toilet seats as a bathroom fitting can be easily overlooked, and with frequent use, they do undergo wear and tear. Most toilet seats are made with thermoplastic or thermoset materials, which are hardwearing and easy to clean. A great tip is to choose a toilet seat with soft close hinges which offer a slow-release system – this is more hygienic and quieter. Release hinges allow you to remove the toilet seat and clean it more easily and more thoroughly.
Vectus offers 4 toilet seat covers namely, Vectus Pro, Smart, and Silk. These seats are ergonomically designed to enhance user comfort, with sturdy robust construction. And are available with or without jet spray technology.
Bathroom Accessories
Bathroom accessories are smaller fittings – they cover objects such as shower baskets, soap dispensers, toilet roll holders and towel rails. Plastic bathroom sets are an important integration within the bathroom. Think about the interior décor style you are striving for, and align your chosen accessories to coordinate accordingly. For a modern style, opt for minimalistic and clean accessories in block colours. For a traditional style, opt for accessories with more intricate decoration. The type of accessories you incorporate into your bathroom will depend on your personal preferences.
The bottom line in choosing bathroom accessories is that a good choice will stand the test of time while the wrong choice may demand changing after just a little time. There are so many types of bathroom fixtures and fittings to choose from, and it can be stressful trying to decide what you do and don't need for your bathroom. Vectus is one of the leading polymer-based companies in India with the trust of over 30 years. Vectus has diversified its range of plastic bathroom accessories by adding Cistern Tanks, Toilet Seat Covers, and PTMT taps to its platter launching premium-quality essentials for beautiful bath spaces.