The Waterwell Wonder range of anti-bacterial water storage tanks has been designed keeping in view the needs of all kinds of applications - domestic, commercial and industrial. Each Waterwell Wonder water storage tank is made of up multilayers (3 and 4 layers) each one serving a very specific purpose. Moreover, every tank goes through with strict quality checks before they leave the plant.
Each water storage tanks comes with a 5 year guarantee
Capacity (Litres)
Overall Diameter (mm)
Overall Height (mm)
Diameter Of Manhole (mm)
200
650
733
390
300
760
750
390
500
845
1015
390
750
965
1155
390
1000
1050
1260
390
1500
1200
1400
390
2000
1325
1590
390
Note:- There could be variations in specification due to continuous product development, All sizes and capacities are approximate.All sizes are in mm
Rounded edges to avoid stress formation.
Computer Aided Design (CAD) incorporating the principles of Finite Element Analysis.
Inner anti-bacterial layer resistant to all kinds of bacteria, fungi and yeasts - which in turn means increased life of the tank.
Odourless water
Better quality of water, which means better health for you & your family.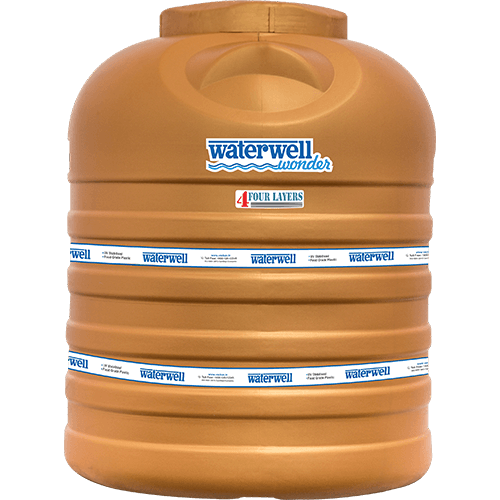 Waterwell Wonder Golden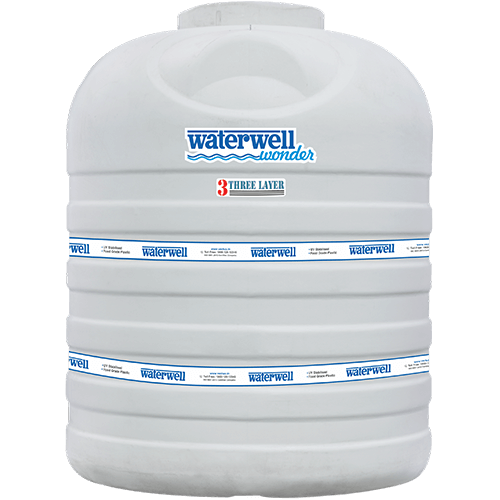 Waterwell Wonder White