Vectus Smart is a new range of Roto Moulding water storage tanks by Vectus Group.There are two types of moulding technologies used to manufacture the best water tanks, Blow Moulding and Rotational Moulding.
Rotational moulding involves a heated hollow mould which is filled with the required amount of material. It is then slowly rotated (usually around two perpendicular axes) causing the softened material to disperse and stick to the walls of the mould. In order to maintain even thickness throughout the part, the mould continues to rotate at all times during the heating phase. It also rotates during the cooling phase to avoid sagging or deformation.
The best water tanks are those which are designed to cater to every need of a customer. Vectus introduced the innovative Smart tank range with three layers to offer complete protection and maintain the highest quality of water.
Made up of 3 layers -
White Titanium layer (Outer layer)
Environment stress & UV Sunshield layer (Middle layer)
Anti Bacterial layer (Inner layer)
.Vectus Smart Tanks are the best water tanks that come with 5 years of guarantee. These 3 layer water tanks are available in sizes of 500, 700, 1000, 1500, 2000 liters. They are available in two colours – White and Yellow.
| | | | |
| --- | --- | --- | --- |
| Capacity (Litres) | Overall Diameter (mm) | Overall Height (mm) | Diameter of Man-hole (mm) |
| 500 | 820 | 965 | 390 |
| 700 | 940 | 1030 | 390 |
| 1000 | 1060 | 1100 | 390 |
| 1500 | 1230 | 1320 | 390 |
| 2000 | 1340 | 1480 | 390 |
Note:- There could be variations in specification due to continuous product development, All sizes and capacities are approximate.All sizes are in mm
Threaded Lid: When we talk about good quality, we don't just mean excellent plastic raw material for our tanks. The best water tanks are those which also consider the quality of their lids. The lids of Vectus Smart tanks are heavy and threaded. This design prevents them from getting blown off by strong winds or getting damaged by monkeys.
Anti Bacterial Layer: Inner anti-bacterial layer prevents bacterial growth and keeps water fresh.
Super strong: Each Vectus water tank goes through strict quality control checks making it stronger and more rigid as compared to other plastic water tanks in the market.
Virgin Raw Material: We use the best quality, 100% virgin raw material, which makes our products the best water tanks, safe for storage of drinking water.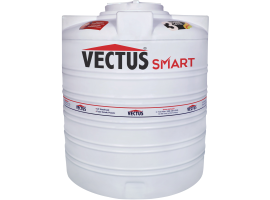 Vectus Smart White

Vectus Smart Yellow